Barbarian Press
Books in Print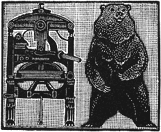 Wood engraving by Colin Paynton
(from The Chimes, 1985)
An Avian Alphabet
A Flock of Poems on Birds by 15 Canadian Poets, selected by Susan McCaslin, with 30 Woodcuts by Edith Krause
Autumn 2023
The Marriage
of True Minds
An Anthology for an Anniversary Chosen by Jan & Crispin Elsted, with various engravings
Spring 2023
Wayzgoose Pamphlet Number One
The 'Wayzgoose' Explained, with Historical Notes on Cope's Albion, and Sherwin & Cope's Imperial, Presses
Autumn 2022
Wayzgoose Pamphlet Number Two
The Dingbat: a Picaresque Etymology, with Examples
Spring 2023
The Marriage of True Minds
An Anthology for an Anniversary
Chosen by Jan & Crispin Elsted,
with various engravings
Estimated publication Spring 2023
We conceived this book as a celebration of our 50 years of marriage and our 45 years as Barbarians. It comprises fifty of our favourite love poems, reaching back to classical Greece and the Old Testament, and forward through the late Middle Ages, the renaissance, and the 18th and 19th centuries to the present day, by twenty-eight poets ranging from the writer(s) of The Song of Songs which is Solomon's to lyrics by Sappho, to Chaucer, Spenser and Donne, Marvell, Clare, Christina Rossetti, Tennyson and Yeats, to contemporaries Jan Zwicky and Heather Simeney MacLeod, among many others – not forgetting the ubiquitous Anonymous, who contributes five. Eight of Shakespeare's sonnets form a thematic spine throughout the book.
We invited seven engravers who have illustrated our books over the years and have become part of our lives as friends and collaborators to contribute engravings to accompany poems of their choice: Richard Wagener engraved a stunning frontispiece block, while Abigail Rorer, Andy English, Simon Brett, Peter Lazarov, Walter Bachinski, and Graham Williams chose to illustrate poems that range from the Middle English to the contemporary.
The type we have chosen for the book is Pastonchi, in its inaugural use here at the press – a graceful, elegant, but little-known face issued by Monotype in 1929, designed by the Italian poet Francesco Pastonchi with the typographer Eduardo Cotti to be used to print an edition of the Italian classics. We are fond of the face. Although it has never been widely used (especially in North America), and has occasionally been criticized by those who fail to respond to its openheartedness, we feel it is ideally suited to poetry, and are delighted to add it to our range of typefaces. We are deeply grateful to a dear friend and longtime subscriber to the press who funded the acquisition of the matrices for Pastonchi – as well as for the Greek face Antigone, which we used in our edition of Cavafy in 2016.
So many subscribers now prefer the deluxe state of most books that there seemed little point for this particular book to appear in two versions, so it is available in only one state – essentially a deluxe edition. The book is bound in half-leather with printed paper over boards and slipcased with a portfolio of the engravings.

Some Comments by Readers
The Marriage of True Minds arrived yesterday and it was everything I thought it would be and then some. I had been wondering which fifty poems you would select and it was fascinating to see which of Shakespeare's 154 sonnets registered most with you and to discover and read your other choices as well. The edition itself is splendid as usual, elegant in a simple, unfussy manner. The Pastonchi type contributes greatly to this without sacrificing legibility and the illustrations from a lifetime collection of friends who just happen to be among the world's finest wood engravers add a perfect touch.
Jack Katz M.D., Subscriber
I love this book. It's not going on the shelf with the other fine press books. It's going to stay next to my chair with the poetry books I reach out for when I'm needing to reflect and feel alive. Thank you.
Stephanie Kimbro, Subscriber
The Marriage of True Minds came yesterday, and I'm stunned by its beauty. It's one of the most exquisitely made books I've ever seen. And I'm honoured beyond measure that you'd include my work in such an edition and in such company. I still don't quite believe it.
Jan Zwicky, Governor General Award-winning poet (Songs for Relinquishing the Earth, 1999), philosopher, and author of Wisdom and Metaphor among many other volumes.
I've spent many nights with The Marriage of True Minds … and what a triumph it is. I have no doubt that newcomers to your work will be thrilled by it too, but for someone who knows your oeuvre, it's nothing short of magical to experience. … It's a beautiful and touching book (and I've barely even mentioned the engravings!) You've really outdone yourselves. It's a book to be proud of, as I'm sure you are. It's certainly going to bring me many more hours of enjoyment, so thank you for that.
Sara Simms, Subscriber
[The Marriage of True Minds] is a wonderful celebration, full of friends old and new. Everything just seems so right; nothing dominates, but everything supports everything else. There is not one poem or wood engraving that I would wish were not included. The design and production is, of course, as always, immaculate and it is such a satisfying book to hold and read.
Richard Barnett, Subscriber

SINGLE STATE: 125 copies, with 105 for sale & 20 copies hors commerce. Small Crown quarto: 10¼ by 7½ inches [260 by 190mm]. 96pp. Hand-set in Pastonchi in red and black on Zerkall ENE Extra Smooth mouldmade, with nine engravings printed from the wood. Bound in half crimson morocco with a skived leather spine label and patterned paper over boards, slipcased with a portfolio of proofs of the engravings. PRICE: C$1,200.00
Only a few copies still available.
Visit our Ordering page to place an order for this title.