Barbarian Press
Ordering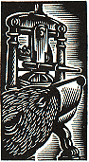 Wood engraving by John DePol
(from Utile Dulci: The First Decade
at Barbarian Press, 1992)
Books may be ordered directly from the press by telephone or e.mail, or by post using a printed copy of our online order form.
Telephone: (604) 826 8089

Email: barbarianpresspublishers@gmail.com
Mailing Address:
Crispin & Jan Elsted at Barbarian Press
12375 Ainsworth Street
Mission
British Columbia V4S 1L4
Canada
We accept payment by Visa, American Express, money order, or cheque in Canadian or American funds or Sterling. Payment in other currencies should add the equivalent of US$15 for bank charges and processing.
NOTE: Canadian customers should add 5% of the total for GST.
Exchange Rates
Due to fluctuating exchange rates, British, American, European, and Asian clients will be charged at the prevailing currency exchange rate at the time of invoicing.
Postal Charges
Please note that books will be sent by Expedited Parcel Post in Canada and the United States, unless Air Express Post is specified. Books overseas will be sent by Air Express.
Due to continually rising postal rates and changes in regulations, and the varying sizes and weights of our books, it has become impossible for us to apply standard postal rates. Packing and postage are charged at cost.
Discount Schedule
Trade: 30%
[Note that a variety of titles may make up an order.]

Subscribers: 30% *
Subscriptions to Endgrain Editions
For collectors with a particular and strong interest in wood engraving, we offer a special subscription to the Endgrain Editions series. Endgrain Subscribers agree to purchase one copy of every volume in the series (in their choice of either state, depending on availability) at a discount of 20%. Please note that this discount applies only to Endgrain Editions; for any other books, Endgrain Subscribers will be charged the full price.