Barbarian Press
Books in Print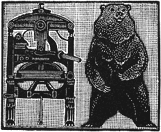 Wood engraving by Colin Paynton
(from The Chimes, 1985)
Ursus typographicus:
a Chronology of Bears
December 2017
Musick in partes
Songs & Poems from the Plays of William Shakespeare
August 2017
Fancy:
8 Odes of John Keats
with fifteen wood engravings by Andy English.
2015
Endgrain Editions 4
Simon Brett – An Engraver's Progress
2013/2014
Books in Print
from Barbarian Press
On the average, we publish two to three books a year – usually one substantial book, such as an addition to the Endgrain Editions series, and one or two other smaller or less elaborate titles which will often include an illustrated classic or a book of poetry, or something with typographical or bibliographic interest. Since wood engravings are an important part of our interests as publishers, most of our books are illustrated.
The newest addition to our list is Ursus typographicus, our 40th anniversary 'birthday card' to the press. It takes a cue from our 25th anniversary broadsheet, A Sloth of Bears, which printed all the versions of our press device of the bear with, or near, a press, up to 2002. It was immensely popular and we still receive requests for it. Ursus typographicus goes several steps further. Subtitled 'A Chronology of Bears,' it reprints all our press devices and printer's marks to date (several more have been added since 2002), each accompanied by a list of the books in which it appeared, and a brief note about the engraver of the device and our work together. There is a Foreword by CE about bears, his love for them, and their place in the heraldry of the press, and Afterwords by JE and CE about printer's marks and our reasons for choosing the marks we have, all three sets of which accompany the essays. We asked Andy English to create a new press device for this book, which appears for the first time on the colophon page, and two new printer's marks, which he has delightfully done. In addition, he has engraved a delicious frontispiece for the book. More information about the book can be seen on its own page.
Also newly added to our list is Musick in partes: Songs & Poems from the Plays of William Shakespeare, which was published in September, 2017. This book was originally planned for publication late in 2016, to mark the 400th anniversary of the year of Shakespeare's death. However, as is so often the case, various matters of Life intervened, and in the event we weren't able to complete the book until the summer of 2017. The book is in the same crown octavo format as two of our earlier books of canonical poetry, The Eve of St. Agnes and Fancy: 8 Odes of John Keats, and is illustrated with wood engravings by John Lawrence, one of the best-known illustrators in the engraving community. John's full page illustrations are made up of several images in a montage which, separated from the whole, are then used as coloured spots on following pages of the book. This makes for a sparkling, lively anthology of poems which are, by their nature, widely varied in mood and style. The book also includes notes and a glossary.
The Splendour of a Morning, a small collection of thirty-eight of C. P. Cavafy's poems, translated by David Smulders and illustrated with five engravings by Peter Lazarov, was greeted with even more enthusiasm than we had imagined, and went out of print quite quickly. Apart from our liking for Cavafy's poems and Mr Smulders' translations, the other delight about this project was that in it we introduced a new addition to our composing room: Antigone, a Greek typeface designed by Jan van Krimpen in 1927, a wonderfully generous gift from a patron of the press who made it possible for us to have a new set of matrices for Antigone punched by the Monotype Corporation. We had always thought this the most beautiful of Greek types, but as it has long been unavailable for purchase anywhere we never thought we would be able to acquire it. We are presently considering other Greek texts to publish in order to use this wonderful face in other books.
As the following pages will show, we have two other titles still in print. As we have said, at the time of writing (December 2017) we have a few Regular copies of each of Fancy: 8 Odes of John Keats and Endgrain Editions 4: Simon Brett – an Engraver's Progress.
Please look at the page for each individual book for further information with photographs of the book and sample pages, and information about prices. You can find news about books presently in the press under Books Forthcoming.
Thank you for looking ...
A Note about Currencies
Because the world economy is in such a constant state of flux, we are unable to offer fixed prices in other currencies. Our books are priced in Canadian dollars, but we accept payment in other currencies by personal cheque, or you can pay by PayPal in Canadian dollars, as invoiced, with a surcharge of 4%. If you wish to pay in other currencies, we will invoice you at the exchange rate prevailing on the day the invoice is sent.
Of course we also accept payment by Visa and American Express, which take the payment off at the rate prevailing at time of purchase. However, we have to add a surcharge of 5% on credit card purchases to cover our costs.
A Note about Subscriptions
If you are interested in our work, or in fine press editions, you should consider becoming a subscriber. It is economically exceedingly wise.
It is also very simple: Just contact us, and tell us that you wish to become a subscriber. This means that you undertake to buy ONE COPY of every book we publish – typically two to three a year. In return for this guarantee from you, we give you a 30% discount on the retail price of the book.
In the case of our more expensive books, the resultant savings can amount to a few hundred dollars – enough to buy another substantial book from us or from another press!