Barbarian Press
Past Publications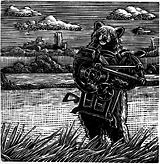 Wood engraving by Andy English
(from The Eve of St. Agnes, 2003)
Many of the titles published by Barbarian Press in the past are now out of print. Descriptions and publication details of some of those titles are available here for your perusal.
Please note that all of these books are
OUT OF PRINT
Endgrain Editions 4
Simon Brett – An Engraver's Progress
With an Introduction by Simon Brett and catalogues raisonnés of exhibitions, publications, and engravings from 1961 to the present
Winter 2013/2014
Simon Brett is acknowledged as one of the masters of wood engraving of the past half-century. He was inspired to take up engraving in the early 1960s by his teacher Clifford Webb at St Martin's School of Art in London. (N.B. In 2019, after many years of work on the project, his biography Clifford Webb: Illustrator & Wood Engraver, was published by Little Toller Books. We strongly recommend it to anyone interested in wood engraving, and particularly the history of engraving in Britain.) He illustrated a number of books in the 1980s and published them under his own imprint, Paulinus Press, winning the Francis Williams Illustration Award for the first, The Animals of Saint Gregory, in 1981. Since 1989, when he retired from teaching at Marlborough College, Simon has worked exclusively as a wood engraver, principally as a book illustrator.
Although his work has appeared in books from such publishers as David R. Godine [Pushkin's The Gypsies and other poems] and in 26 images for the New Testament portion of The Reader's Digest Illustrated Bible, the widest selection is to be seen in books from the Folio Society, for which he has illustrated many classics, among them Jane Eyre, Clarissa, The Poems of John Keats, The Confessions of St Augustine, Legends of the Grail, Middlemarch, and Legends of the Ring. Beyond this, his engravings have been commissioned by many fine presses in Great Britain, the United States, and Canada – including ours.
We spent several days with Simon in November 2011 going through the archive of his work in his studio in Marlborough, and with him we made a preliminary selection of images going back to his earliest engravings. In celebration of Simon Brett's first fifty years as an engraver and his 70th birthday, we completed a few copies of this retrospective book on his work in time for the Oxford Book Fair in November 2013.
An Engraver's Progress [Endgrain Editions 4] is more extensive than other volumes in the Endgrain Edition series, containing 134 engravings, considerably more than twice the number shown in the earlier volumes. There are several tipped double spreads of larger images, and the book is in the larger format [13½ by 10½ inches; 381 by 267mm] used for Endgrain Editions 3: Peter Lazarov.
Simon Brett has written a fascinating autobiographical introduction to his work, there is a Publisher's Foreword, and like the other volumes in the series the book includes a catalogue raisonné of major exhibitions, a checklist of books illustrated by the artist, and a list of his publications as author and editor. It also includes a complete chronological listing of all Simon's engravings from 1961 to the present: indeed, the two last engravings on the list are the pattern block for the cover paper of this book, and its frontispiece, both specially commissioned. Endgrain Editions 4: Simon Brett – an Engraver's Progress has become the primary reference for Simon's work.
You may be interested to read a review of this book by Chris Adamson on his website Books and Vines.

Some Comments By Readers
The Book has arrived. I was expecting something pretty special, but my expectations were blown out of the water by the thing itself.
The scale is magnificent, enabling the largest engravings to breathe, and the smaller ones to glow amid their surrounding snowy acres.
The sequencing of the engravings is immediately pleasing to the eye, with a gentle rhythm of sizes, densities and styles. Clearly there is a rigorous intellectual organisation at work too, but I have not yet dwelt sufficiently in the book to study this.
The Joanna type is really well suited to Simon's work.
The printing of the blocks is astounding. My colleagues here have been crowding around the book, as one of them reverently turns the pages, emitting gasps of delight as one image after another is revealed with its deep velvety blacks and crisp fine white-line work. Of course we are familiar with many of the engravings, but have never seen them look as good as this.
And indeed it is with Simon himself that one must conclude. There is no other engraver who has achieved such a distinctive voice in wood engraving working in such a wide range of fields, from modest vignettes to flamboyant spiritual allegorical statements. A voice which is essentially humane but also constantly striving to see behind the surface of the material world – oh, and funny too!
Many, many thanks to you both.
Joe Whitlock Blundell, Design and Production Director of The Folio Society

The books arrived safely today. Thank you, they are timelessly magnificent. Congratulations on such a fine job. It will be a pity to sell them!
Colin Neville, Bookseller

It has arrived and is utterly magnificent. If you keep going like this I am going to have to annex another room for my library. Amazing achievement and my sincere congratulations.
Murray Rosen, Subscriber

Your book is a joy, a real delight. … Your skillful selection and juxtaposition of the illustrations together with the printing really demonstrate the range, quality and breadth of [Simon Brett's] technique and imagination. The textual forward and introduction feel helpful and do their job well. And I really enjoy your selection of papers and binding materials.
I have no doubt that fellow publishers, typographers, book designers and printers will give more technical reviews. What I hope each will do, as I started with, is to commend the pleasure that the book gives.
Mike Tregear, Endgrain Subscriber

The book arrived safely. It is a powerful piece of work.
Neil Elliott, Subscriber

I wanted to confirm the receipt of the wonderful book. I can see why this was in the works for a while, but it was certainly worth the wait.
Evan Brownstein, Endgrain Subscriber

WOW! It is beautiful in every way. From the boards to the paper from the words by Crispin and Simon to the quality of the printing I think this is the most beautiful work you have produced. I'd give my eye teeth to have an unbound copy just of the prints so that I could frame three or four at a time and change them every month.
But still at night as I do with a different Barbarian Press book each night I look at the images and say in a gloating voice "It's mine all mine and I love it."
So thank you for producing it and allowing me to acquire a copy.
David Bond, Subscriber

The copy of Simon Brett's engravings which you sent to me arrived here yesterday in pristine condition. It is beautifully designed and printed. I am delighted with it Thank you very much.
John Manttan

I received the Simon Brett book today. It looks fantastic. What a beautifully designed book in all respects!
James Freemantle, Subscriber

Simon arrived safely this morning, almost in person, gosh what a triumph, the images sparkle on the page, and the blacks are so beautiful, and the binding gorgeous. The lay out, the space, the feel ... just gorgeous.
Hugh Harrison, Subscriber

[The] Simon Brett [is] magisterial, magnificent, and Mr. Brett must so love what you were able to accomplish, a treatment he so much deserves. I have never seen a compilation of engravings done so masterfully, with the clean white paper that allows the engravings to live, the fantastic placement that allows one to see each engraving within its own copious space to really key in on the engraving (allowing each to live on its own) regardless of the presence of another engraving on the page … and that accomplishes so much so well with the double paged spreads. Don't mean to be overwhelming, but it is the best treatment of an engraver's works that I have ever seen! And I could go on and on. And I thank you.
Andrew Hedden, Subscriber

Endgrain Editions Four: Simon Brett – an Engraver's Portrait is published in an edition of 175 copies, of which 55 constitute the Deluxe state, and the remaining 120 the Standard.
DELUXE STATE: 55 COPIES. Texts printed in Joanna with Fry's Ornamented for display in green and black on Zerkall Cream laid, with 134 engravings printed from the wood on Zerkall White Smooth. Bound in quarter green leather with a skived leather spine label with a patterned paper by the artist over boards, slipcased with a folder containing a signed and numbered strike of the commissioned frontispiece for the book.
PRICE: C$1,290.00 OUT OF PRINT
STANDARD STATE. 120 COPIES. As the Deluxe state, but quarter cloth with a printed paper label and patterned paper, and not slipcased.
PRICE: C$990.00
Both states are bound by Alanna Simenson at Mad Hatter Bookbinding, Sooke, B.C.
Visit our Ordering page to order this title.