Barbarian Press
Past Publications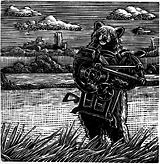 Wood engraving by Andy English
(from The Eve of St. Agnes, 2003)
Many of the titles published by Barbarian Press in the past are now out of print. Descriptions and publication details of some of those titles are available here for your perusal.
Please note that all of these books are
OUT OF PRINT

Tu es Petrus
Endgrain Editions Three:
Peter Lazarov
Summer 2003
"In our field, [Peter Lazarov] is the great virtuoso of the age. ... [His work] seems to live a life of its own, dancing between image and abstraction, surface and depth, the modelled and the line, the sketch and the fully resolved, to be always a pyrotechnic display, to be evidently a pyrotechnic display before ever one can begin to recognise whatever else it might be. With this book, however, one can begin to push aside dazzlement and sense what lies beyond it. It is essential reading and viewing for anyone who wants to know what wood engraving can do today." Simon Brett, in Multiples: The Newsletter of the Society of Wood Engravers (Vol. 5, No. 6, November 2003)
Peter Lazarov was born in Bulgaria, and studied there. He was trained in the classical tradition, centred on drawing, especially of the human figure. In 1991 he defected to the Netherlands, where he now lives with his wife and son. His engravings embrace bookplates and cards, but increasingly he is interested in book illustration and independent prints. His work exhibits an immaculate and detailed technique sometimes reminiscent of 19th century steel engraving, combined with the lustrous tone associated with eastern European work, particularly the Russian school. His approach ranges from realist pastoral engravings to semi-abstract and neo-expressionist pieces of great power, and often finds its inspiration in classical mythology and literary reference, while not being explicitly illustrative of either.
Recently, having spent some time in Japan studying mokuhan block printing techniques, his work has evolved further. His free prints, often very large indeed, typically combine blocked areas of pure colour with engraved images of extraordinary fineness and delicacy, and in the frontispiece of this book, traditional wood engraving is combined with a background of pressboard printed in contrasting colours. The artist has also created an unusual abstract pattern paper for the covers.
The blocks presented some new challenges in the presswork: the earlier blocks, from Lazarov's Bulgarian days, were engraved on whatever wood could be found; they are endgrain blocks, but on a variety of different woods, and varying considerably in thickness. They are also much larger than most engravings Jan has printed before, which will explain our introducing this new larger format. In order to print them adequately, we recently added a Vandercook Universal III, which has a bed size larger than that of our Vandercook Universal I, to cope with some of the work.
This is the first of the Endgrain Editions to appear in the larger format.

"Another magnificent production. Cheers!"
Michael Lieberman, Wessel & Lieberman, Booksellers
"I have just spent a lovely 1-1/2 hours poring over it, and enjoying every minute. It's a beautiful job ...Congratulations!"
Julianna Humphreys, wood engraver
"Thank you for sending Endgrain 3 - well worth waiting for. Superb as usual."
Anne Yandle, librarian and bookseller
"What a stunning production; I had no idea it would be grand, in every sense of the word! I am so pleased I got in on #1 and subsequent issues. Thanks for a truly marvelous work."
Norman McKnight, Philoxenia Press
"A beautiful book."
Vicky Stewart, Vamp & Tramp Booksellers
"The engravings are striking and grow in interest each time I look at them. Your work is, as usual, of first class quality. Excellent."
Colin Neville, bookseller
" ... the Lazarov volume is being thoroughly enjoyed. It is a stunning combination of his unique artistry and exceptional book design and printing."
Jeff Canfield, wood engraver
"I just received my copy of Endgrain Three: Peter Lazarov and just wanted to say that it is almost frightening in its perfection. What an absolutely stunning book! Everything about it is so well thought out from the bookcloth to the paper to the coloured ink for the plate titles. The printing is faultless and Peter Lazarov's wood engravings make one drool. I can't even begin to fathom the amount of work that went into even the smallest of the engravings. I can't say enough! Thank you, thank you, thank you."
Caryl Peters, Frog Hollow Press

Deluxe Edition: Hand set in Joanna roman and italic, with Optima Medium for display. Approximately fifty engravings printed from the wood. Yellow, sienna and black on Zerkall Cream Rough Wove and Book White Wove papers. Frontispiece in yellow, sienna and black. Hand bound by Simone Mynen in quarter sienna leather with patterned paper over boards, gold-stamped leather label on spine, with a signed and numbered proof of the frontispiece in a handmade paper folder. Slipcased.
15 by 10 ½ inches [381 by 267mm]
132 pages. 60 copies. OUT OF PRINT
Regular Edition: Quarter bound by Rasmussen Bindery in Sienna cloth and patterned paper, printed label on spine.
15 by 10 ½ inches [381 by 267mm]
132 pages. 150 copies. OUT OF PRINT