Barbarian Press
Past Publications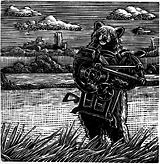 Wood engraving by Andy English
(from The Eve of St. Agnes, 2003)
Many of the titles published by Barbarian Press in the past are now out of print. Descriptions and publication details of some of those titles are available here for your perusal.
Please note that all of these books are
OUT OF PRINT
Endgrain Editions One:
Gerard Brender à Brandis
May 2000
Endgrain Editions One: Gerard Brender à Brandis is the first in a projected series of books on individual wood engravers, stemming from our publication of Endgrain in 1995. It presents fifty of Mr. Brender à Brandis's engravings, selected by him, and printed from the wood. Among them are his first engraving (1964). This book marks the inception of an important part of our publishing program for the foreseeable future: we have volumes planned already through 2005, and we hope to continue to produce these monographs as an ongoing part of our list. Each volume will show up to 50 engravings chosen by the artist from his or her past work, and will feature three commissions: a frontispiece, tipped in to all the books in both states (and also included as a signed and numbered print with the Deluxe edition), a pattern paper, and a new version of our press device. In addition, there will be an introduction by either the artist or an authority on the artist's work, and a catalogue of major exhibitions and publications.
These books are intended to provide a continuing account of the state of wood engraving in Canada, the United States, the United Kingdom and Europe – and possibly in other parts of the world as time goes by. At present we have volumes planned on Abigail Rorer, Peter Lazarov, Gaylord Schanilec, Michelle Post and Paul Kershaw. An overview of the Endgrain Editions series is also available for consultation.

Deluxe edition: Text hand set in Joanna roman and italic, with Augustea and Libra for display. Fifty engravings printed from the wood. Black and burgundy on Zerkall Silurian Green and Book White Wove papers. Tipped in frontispiece. Hand bound by Natasha Herman in quarter burgundy morocco with patterned paper over boards, with a signed and numbered proof of the frontispiece in a handmade paper folder, slipcased.
10 ½ by 7 ½ inches [267 by 191 mm]
84 pages. 50 copies
C$350/US$250 OUT OF PRINT
NB. This state of the book was out of print on publication.
Regular edition: Quarter bound in Japanese silk and patterned paper, printed label on spine, with a tipped-in frontispiece.
10 by 7 inches. [267 by 191 mm]
84 pages. 150 copies
C$225/US$160 OUT OF PRINT