Barbarian Press
Past Publications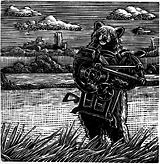 Wood engraving by Andy English
(from The Eve of St. Agnes, 2003)
Many of the titles published by Barbarian Press in the past are now out of print. Descriptions and publication details of some of those titles are available here for your perusal.
Please note that all of these books are
OUT OF PRINT
Venus & Adonis
by William Shakespeare
with 10 wood engravings by Andy English
Winter 2005
We are pleased that Venus & Adonis was shortlisted for the Gregynog Prize for Letterpress Book Design, Oxford, 2005.
Venus & Adonis is one of two lengthy narrative poems written by Shakespeare early in his career, when plague forced the closure of the theatres and he took the opportunity to write something non-theatrical. This poem, The Rape of Lucrece, and probably the sonnets – or at least a good many of them – date from the early 1590s.
Venus & Adonis is an erotic jeu d'esprit, based lovingly on a story told by Ovid in the Metamorphoses. It is the converse of the usual seduction yarn with the boy and the girl in the back seat of the Chevy – although in rather more salubrious surroundings: Venus, a healthy girl with hearty appetites, falls in love with Adonis, a healthy boy with a taste for hunting, and attempts with all her considerable charms to entrap him. Adonis, with stupefying indifference to what is being offered him, resists manfully – well, resists, in any case – and eventually leaves her in order to hunt the boar, with the inevitable tragic result. The poem ends with Venus's lament and the springing up of a flower from Adonis' blood to stand in his memory.
The verse is limpid, rich with natural imagery, and laced with broad humour in places – as when Venus, first encountering Adonis, effectually hauls him off his horse and walks off with him under her arm:
... Being so enrag'd, desire doth lend her force,
Couragiously to plucke him from his horse.

Over one arme the lustie coursers raine,
Under her other was the tender boy,
Who blusht, and powted in a dull disdaine,
With leaden appetite, unapt to toy,
She red, and hot, as coles of glowing fier,
He red for shame, but frostie in desier.
We had enjoyed Andy English's engravings for The Eve of St. Agnes, and so we asked him to illustrate this poem as well. He answered the commission with ten stunning engravings – three full-page, two half-page, four 'spots', and a new version of our pressmark. Martin Jackson, an internationally acclaimed calligrapher and teacher, provided vigorous titling for the title page and for the opening and closing of the text.
Venus & Adonis is the second in what we expect to be an ongoing occasional series of poetry & prose from the canon of great writing in English, illustrated with engravings.
As always, your labors have produced books [Venus & Adonis and The Wolf's Carol] that are beautiful in content, design and production.
Jeff Canfield, Subscriber, USA

Venus & Adonis is both beautiful and satisfying, and the binding complements the book very nicely.
Jean-Francois Vilain, Subscriber, USA

Quarter green cloth with decorated printed paper over boards, with spine label. Bugra cream endpapers. Poliphilus and Blado with Poliphilus Titling and calligraphic display by Martin Jackson in green and black on Zerkall Book Cream Wove. With ten wood engravings and a press device by Andy English.
10 by 5 ½ inches [254 by 140mm]
64 pages. 130 copies.
C$275
Please Note: British, American, European, and Asian clients will be charged at the prevailing currency exchange rate at the time of invoicing.
Visit our Ordering page to place an order for this title.