Barbarian Press
Past Publications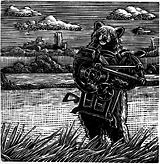 Wood engraving by Andy English
(from The Eve of St. Agnes, 2003)
Many of the titles published by Barbarian Press in the past are now out of print. Descriptions and publication details of some of those titles are available here for your perusal.
Please note that all of these books are
OUT OF PRINT
A Sloth of Bears
A broadsheet of wood engraved devices from the first twenty-five years of the press
October 2002
Our press device goes back to the first days of the press, when our friend Louis Turpin, a painter, drew the first version for us: a black bear carrying a handpress on his (or her) back.
We decided on this device for a number of reasons. First, as Canadians in Britain, we were nostalgic for many things Canadian, and the black bear is certainly an important character in the Canadian woods. Second, Crispin at one time worked as a bearward at the Vancouver zoo, and has a great fondness for bears, regarding them as his personal totem.
The third reason is more complicated, and relates directly to the form the device has taken. We had considered using a saint's name for the press, but none had really sprung forward: although Augustine is the patron of printers, we didn't feel that he was quite our man. However, in our researches we had encountered one or two saints, notably Gall and Columban (whose symbol is a bear) who were supposed by legend to have been aided in building the abbey of St. Gallen by a bear who carried stones on his back. It was only a small jump to a bear helping us by carrying a press on its back, and there was the device.
Louis's ink drawing was made into a magnesium cut in several sizes, and we used it exclusively for many years. In 1984, when we first commissioned illustrations for a book, it was a wood engraver we approached: Edwina Ellis agreed to illustrate A Christmas Carol, and we asked her then if she would provide her own version of a bear with a press. This she obligingly did, and every engraver with whom we have worked since has been asked to provide us with a device. The result is that we now have more than a dozen, and this broadsheet prints them all from the original wood – or in the case of Louis's, the original magnesium.
The brief provided to each artist was to engrave a black bear with a handpress. Not all have been strictly according to rule, but we are certainly not complaining. The results have ranged widely: there are anthropomorphic bears printing or jumping in the air and clicking their heels, heraldic bears passant or rampant, there is one slightly abstract bear, an astrological bear (without a press but with a map showing Mission, B.C.), a bear shown engraved on a block being inked with a brayer, and a bear in flagrante delicto with Jan, who is exultantly waving a brayer in the air. One is a teddy bear, and two are grizzlies (also native to our area, and wonderful creatures). The anticipation we feel when commissioning a new device is keen, and we thought a showing of all those engraved for us to date would be a delightful way of celebrating the press's silver anniversary. The broadsheet was printed as a gift for our patrons and subscribers, but we have printed an edition of an additional 125 copies for sale.

A Sloth of Bears is printed in red, blue and black on Zerkall White Wove paper, with all engravings printed from the original blocks. The types are Perpetua Light Titling and Van Dijck.
15 by 21 inches [381 by 533 mm] [vertical] 125 copies
C$80; approx. US$75 OUT OF PRINT