Barbarian Press
Past Publications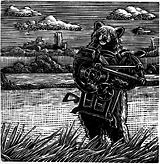 Wood engraving by Andy English
(from The Eve of St. Agnes, 2003)
Many of the titles published by Barbarian Press in the past are now out of print. Descriptions and publication details of some of those titles are available here for your perusal.
Please note that all of these books are
OUT OF PRINT
Inishbream
A novella by Theresa Kishkan
with 21 wood engravings by John DePol
First Prize, Limited Editions, Alcuin Society Citations for Excellence in Book Design in Canada, 1999
April 1999
I had not known about the islands. I'd thought the land ended suddenly and completely, the way land will, losing itself to the sea ...
In the 1970s Theresa Kishkan spent a year on a small island off the west coast of Ireland. Inishbream is a fictional account of that experience. The story explores the relationships between the narrator and her lover, the island people and the sea which is her livelihood; between the elements of land and sea, the islanders and the people of the mainland, a foreigner and those in their homes; between Canada and Ireland, and among the landscapes of the Irish coast, and those of the narrator's childhood and imagination. All these syntheses and divergences create a background for the flux of a young woman growing, changing, coming to know herself and her world, creating her place, surrounded by strangers becoming friends ...an assortment of sainted children, men of the sea's kin, the knitters, a healer, the quiet breeding seals. The writing is alert, lyrical, pungent and lively, telling the story through conversations, scraps of song and storytelling, and through descriptions of the stony toil of life on Inishbream.
We are delighted to have John DePol's engravings as illustrations. One of the most revered of contemporary wood engravers, his lyric, pithy style exactly captures the tone of the text.

Regular edition: Hand set in Joanna, and printed in two shades of green on Zerkall Silurian Green paper. Wood engravings printed from the wood. Quarter grey-green Japanese silk with patterned paper over boards, printed label on spine. The title page features a double-page spread engraving with calligraphy by Irene Alexander.
10 3/4 by 6 1/4 inches [267 by 152 mm]
96 pages. 175 copies.
C$250; approx. US$195 OUT OF PRINT