Barbarian Press
Past Publications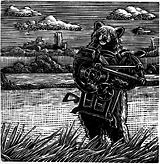 Wood engraving by Andy English
(from The Eve of St. Agnes, 2003)
Many of the titles published by Barbarian Press in the past are now out of print. Descriptions and publication details of some of those titles are available here for your perusal.
Please note that all of these books are
OUT OF PRINT
The Ingoldsby Legends: A Gallimaufry
by Richard Barham
with eight contemporary wood engravings by the Dalziel Brothers after drawings by 'J.L.R'
Spring 2015
In 1837 the first number of Bentley's Miscellany appeared, published by Richard Bentley and edited by Charles Dickens. As well as the first installment of the editor's Oliver Twist, it also featured the first of a series of 'metrical tales' – stories in verse – published under the name of Thomas Ingoldsby. As the Miscellany – and Oliver Twist – continued to appear, so did these grotesque and fantastical (and increasingly popular) narrative poems, which came to be known collectively as The Ingoldsby Legends. Drawing upon myths and legends, which they mercilessly parodied, and often using the more macabre conventions of fairy tales and ghost stories, they became so much in demand that Richard Bentley published three separate volumes of them in the following years. They have remained in print ever since.
The actual author of these pieces was Richard Harris Barham (1788-1845), an English classical scholar, novelist, writer of light humorous verse, and priest in the Church of England. Barham had been at school with Richard Bentley and as adults they had remained friends. His first contributions to the Miscellany were written as a favour to the publisher, but as their popularity grew and was sustained by further examples, he continued to produce the poems until in the end he had written more than fifty, some of considerable length. The Legends are representative of a particular style of early Victorian humour which mingled caricature with grotesquerie, and moral tales with Gothic or romantic atmosphere, the whole salted with antiquarian learning and odd scraps of history, literary allusion, and word-play. One has only to think of Dickens' tale of the 'Five Sisters of York' in Nicholas Nickleby, or of characters like Quilp, Squeers, and Crook, to recognize elements of this style in Barham's most distinguished contemporary; or to turn over a few volumes of Punch in its earliest incarnation in the 1840s and '50s for the same comic twists as Barham regularly provides, and arguably helped to inspire. His capacity for ingenious rhyme and meter allows him to incorporate widely diverse materials into his verses: legal jargon, Latin and other foreign tags, ordinary conversation, and high-sounding rodomontade tumble over one another, and the delight of the poems lies as much in their language as in the narratives. There is a satirical edge to some of Barham's poems – the hagiology and liturgical ritual of the Catholic church is a favourite butt – and like much Victorian writing the poems have elements of racial and social stereotyping, but these arise entirely from the milieu of Victorian society and must be seen in context.
Our edition provides a selection – or 'gallimaufry' as the Victorians might have termed it – of eight of these poems, illustrated with wood engravings produced in London by the Dalziel brothers for a proposed edition of the Legends which, in the end, never appeared. Six of the poems have been chosen to accompany six of the Dalziel engravings, but two ('The Jackdaw of Rheims' and 'The Legend of Hamilton Tighe') are included because they were among the most popular of the collection. We are inclined to think that the drawings for the illustrations, engraved on wood by the Dalziels in the 1860s or early 1870s, are by John Lewis Roget, son of the Roget of Thesaurus fame and a noted British painter and illustrator of the time: the initials 'JLR' are carefully engraved by the Dalziels into each of the blocks. The images may have been omitted for some reason from the 1864 edition published by Richard Bentley, which was illustrated by John Tenniel, John Leech (the original illustrator of A Christmas Carol), and George Cruickshank, all of whose drawings were transferred onto wood by the Dalziels. Roget's illustrations (if it was he) may have been considered for this edition as well, not used, and only engraved later, but this is only speculation. The images, with one exception, have remained unpublished till now, and this edition will therefore make their introduction to the world. The blocks were donated to the library at Massey College, University of Toronto from his own collection by the late Robertson Davies, and we are deeply grateful to Brian Maloney and P. J. MacDougall of the Robertson Davies Library at Massey College for lending them to us.
The poems unavoidably contain many topical references, Victorian slang, liturgical lore, and other matter unfamiliar to many 21st century readers, and with this in mind, each is followed by comprehensive notes by Crispin Elsted, who also provides an Afterword on Richard Barham and the character of his work.
You may be interested to read Chris Adamson's review of The Ingoldsby Legends: a Gallimaufry on his Books and Vines website.

Some Comments By Readers
I am enjoying my read of [your Ingoldsby] Gallimaufry and the copious footnotes add immeasurably to it. Placing Barham's work into the context of Victorian society and 'filling in the gaps' for a modern reader make it a unique edition, so much so that it is my "go to" book for reading the Ingoldsby Legends. ... Although the project morphed into something much larger and more time-consuming than you had planned, it was well worth the while for your readers and subscribers.
Jack Katz M.D., Subscriber

I've recently finished reading Ingoldsby and am, as always, so pleased with the entire thing, from your presswork to Crispin's insightful notes and remarks, that I wish the thing were three times as long as it is. And the smell! How do you get the paper to smell like that? Should bottle it as a room spritzer so I can stop getting the looks I get when folks catch me snorting, snuffling, nuzzling my books.
James Gifford, Subscriber

I have received the delightful Ingoldsby. What a treat. It was well worth the long wait. Barbaric Frenchman that I guess I still am, I had no idea what to expect: I had heard of Ingoldsby but had no idea what it was about . . . but the slog was made easier by the notes, erudite and witty, as usual from Crispin. And the Afterword alone is worth the price of admission. I expected and got the kind of wonderful design, typography, and printing you two deliver consistently.
Please congratulate Alanna for the superb binding.
I am very happy and proud to add Ingoldsby to the 40 plus Barbarian books on my shelves.
Jean-Francois Vilain, Subscriber

Just a note to thank you so very much for our copies of the book – it is simply exquisite, and Massey will be very proud of it for many years to come. What a beautiful piece of work! It is just SO wonderful to see those images used in such a thoughtful and loving way. I know it was a long and difficult process, but what a result!
P.J. MacDougall, Librarian, Robertson Davies Library, Massey College, Toronto, who arranged to loan of the blocks for our edition.

[The Ingoldsby Legends] arrived today. First, given the superb way in which it was packaged, it was fitting that it arrived on the 70th anniversary of the dropping of the first atomic bomb. I mean the box could have withstood a direct hit. But the true joy was in finally unwrapping it and then holding in my own hands.
First, the binding is beautiful as I have come to expect from you both. Second, the individual prints are each a joy. Third, the design of each page – the type face, the margins, everything – is just a pleasure to see. And finally, I shall look forward beginning tonight to reading the contents.
So to you both thank you for making yet another gem that I can add to my collection of Barbariana.
David Bond, Subscriber

A quick note to confirm that The Ingoldsby Legends: A Gallimaufry arrived safe and sound with this afternoon's mail. Predictably, it is stunning and is a most welcome addition to my private press book collection. Despite the enormous amount of time involved in seeing this project through it is (imho) the finest book you have published after your landmark The Play of Pericles. It has already whetted my appetite for your forthcoming books The Splendour of a Morning and Fancy: 8 Odes of John Keats. Seems as if we collectors are never satisfied!! Frankly, I wish I had been aware of Barbarian Press several years earlier.
My congratulations to both of you on receiving the Robert R. Reid Award for Lifetime Achievement on June 8. Although you are probably too modest to admit it and/or do not have sufficient distance from your work to recognize it, you are clearly the premier private press in Canada and one of a handful of private presses in the world whose works are eagerly anticipated by avid collectors. The scarcity of your earlier titles at auction and in fine bookseller inventories is, aside from a continuing source of frustration to me, testament to the imaginative book design and quality of your publications.
Jack M. Katz, M.D.

The Ingoldsby Legends is wonderful, and I marvel at how much time and effort was required, not just for the beautiful book but for all of the notes and afterword.
Fran Durako, Owner, Kelmscott Bookshop, Baltimore

What a delightful surprise I had when the book arrived. It is magnificent. Thank you so much. And thank you for the newsletter. Whilst I read and admire the Gallimaufry, if there any moments of distraction, it will be to dream of your [upcoming] treatment of Keats and Cavafy, two of my favourite poets.
Murray Rosen, Subscriber

The Ingoldsby Legends: A Gallimaufry is published in an edition of 90 copies. Of these, 45 constitute the Standard Edition, and 45 copies the Deluxe.
DELUXE STATE: 45 copies. Hand-set in Poliphilus and Blado with unidentified Victorian initials and Goudy Thirty for display, and printed on Heine mouldmade paper, with the engravings tipped in on Zerkall Smooth Cream. Quarter calf with patterned paper from ornaments over boards, slipcased with an accompanying portfolio containing strikes of all the engravings, including one not used in the book and a titling block too large to be used.
PRICE: C$750.00 OUT OF PRINT
STANDARD STATE: 45 copies. As the Deluxe state, but quarter cloth with patterned paper, and not slipcased.
PRICE: C$525.00
The illustrations in both states are printed from the original blocks. The books are bound by Alanna Simenson at Mad Hatter Bookbinding, Sooke, B.C.
Visit our Ordering page to order this title.