Barbarian Press
Past Publications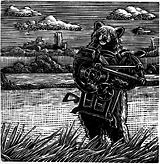 Wood engraving by Andy English
(from The Eve of St. Agnes, 2003)
Many of the titles published by Barbarian Press in the past are now out of print. Descriptions and publication details of some of those titles are available here for your perusal.
Please note that all of these books are
OUT OF PRINT
HOI BARBAROI
A Quarter Century at Barbarian Press
A Bibliography with Essays by Invitation & a Photo Essay by David Evans
Spring 2004
We are pleased to announce that Hoi Barbaroi was granted a Judge's Award at the Oxford Fine Press Book Fair in November, 2005.
Barbarian Press, founded in 1977, was 25 years old in 2002. In fact the press's birthday is January 1st, since it was on that morning in 1977 that we walked into a pub in East Sutton, Kent, and met Graham Williams, who taught us to print.
Our first bibliography, Utile Dulci: The First Decade at Barbarian Press 1977-87, disappeared rapidly and without trace. Of all our books except Endgrain (1995), it is the hardest to find, and the most requested. Much happened in the intervening years, and many new books have appeared, so it is natural enough to issue a further bibliography to mark the press's silver anniversary. However, rather than simply picking up where the earlier, smaller, work left off, we have incorporated the earlier bibliography into this one in order to provide a complete picture of the press's books to date.
The bibliographic sections of Utile Dulci are reprinted in facsimile on the larger pages of this book, with rules indicating the edges of the original pages. The continuing bibliography is set out in full page in the same format as the earlier entries, like them including commentary & anecdotes about the production of the books, but with the addition of some tipped-in pages from the original press runs. The listings will include books and pamphlets, commissioned books, and major ephemeral pieces.
To supplement the bibliographical materials, we invited three friends to contribute essays to this book which related to publishing, collecting, typography, design and printing. The English wood engraver Simon Brett, author/editor of The Engraver's Globe, writes about book illustration; Robert Bringhurst, poet, translator and typographer, and author of The Elements of Typographic Style, writes on the history and cultural effect of private press books; and Sjaak Hubregtse, Dutch collector and lecturer on Book History at the Professional University of Amsterdam and the Plantin Society in Antwerp, and writer on books and printing, discusses collecting private presses. Anthony Rota, leading English bookseller, author of Apart from the Text, and Godfather to Barbarian Press, has provided a delightful Foreword.
Finally, Hoi Barbaroi contains a photographic essay by David Evans, the noted Canadian photographer, which sets out in a score of photographs something of the ambience of the press.
HOI BARBAROI is issued in regular and deluxe states. The deluxe copies are bound in quarter black morocco, and accompanied by a clamshell portfolio in red silk containing a selection of original ephemera going back to the beginnings of the press, pages from earlier books, and a mint copy of our first letterpress catalogue, issued in 1998, and itself now appearing in booksellers' catalogues. They also include a signed studio print of one of David Evans' photographs of the press.

What a delight to answer a knock on the door and find the postman holding a large book shaped package — what a thrill to discover the sender's address and then the anticipation and excitement of getting at the well-wrapped treasure then what a pleasure and joy to open [Hoi Barbaroi] and turn the pages, look at the images, and read the text. Thank you both, very much ...
David Esslemont, fine printer and publisher

Our copy of Hoi Barbaroi arrived this weekend and we are delighted. It is a wonderful testament to all you have achieved with the press and beautifully produced. Congratulations on another intellectual and artistic success.
Jeff Canfield, Subscriber, USA

The book has arrived and what a wonderful book it is. I have some understanding of the amount of work that goes in to creating a masterpiece ... It is a great pleasure to have Hoi Barbaroi in my library. Thank you.
Judi Lindsey, Subscriber, Canada

Deluxe Edition: Hand set in Bembo and Fairbanks italic with Bembo and Castellar for display. Facsimile text of earlier edition printed in offset facsimile from the original pages. Numerous tip-ins and illustrations, from wood engravings to pages from the original press-runs of books. David Evans' photographic essay laid out at the press and printed in tritone by Western Printers with captions digitally set. Printed in two colours on Zerkall mouldmade papers. Hand bound by Simone Mynen in quarter leather with printed paper over boards, gold-stamped leather label on spine. Accompanied by a clamshell box containing numerous original examples of ephemera going back to the beginnings of the press, and an additional signed studio print by David Evans. Book and box contained in a slipcase.
13 by 9 ½ inches [330 by 241mm]
approximately 156 pages. 60 copies.
Price: C$1150
Postage and packing added at cost. OUT OF PRINT
Regular Edition: Quarter bound by Rasmussen Bindery in cloth and printed paper over boards, printed label on spine. Same inclusions as Deluxe edition within book. Slipcased.
13 by 9 ½ inches [330 by 241mm]
approximately 156 pages. 150 copies.
Price: C$650
Postage and packing added at cost.
Please Note: British, American, European, and Asian clients will be charged at the prevailing currency exchange rate at the time of invoicing.
Visit our Ordering page to order this title.