Barbarian Press
Past Publications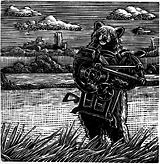 Wood engraving by Andy English
(from The Eve of St. Agnes, 2003)
Many of the titles published by Barbarian Press in the past are now out of print. Descriptions and publication details of some of those titles are available here for your perusal.
Please note that all of these books are
OUT OF PRINT
Gallipoli
A sequence of poems by Alan Loney, with images taken from photographs by Paul Thompson
Second Prize, Limited Editions, Alcuin Society Citations for Excellence in Book Design in Canada, 2005
Summer 2005
"... a poet of international stature, whose mastery has been a resource for us all."
Robert Creeley
This sequence of nine short poems by the celebrated New Zealand poet and printer Alan Loney consists, in the poet's words, of "responses to a series of photographic collages by Paul Thompson, and most of the 'images' given speech in these writings refer, also, back to those photographs, first taken at Gallipoli ...". But these are only the facts of their creation. Pithy, lyrical, humane, these poems probe with insistent immediacy matters whose relevance are as grave now as they have ever been. Gallipoli ... Rwanda ... Iraq ... Sudan ... wherever people kill one another anonymously and dispassionately for ideologies, these poems have their work to do.
The poems are accompanied by four stark alphabetic images distilled from some of the original collages, printed in various sizes and in three colours.
This is a design quite unlike anything we have produced before. The book is in landscape format and the poems and the images accompanying them are arranged in a developing pattern through the pages, each of which is laid out in three columns. The letterforms, enlarged from the original photos of the engraved letters and developed in high contrast, appear initially in black in a small size, and subsequently reappear in light colours at a size which fills the page, with subsequent images overprinted in black. The effect, we hope, is both minatory and monumental.
We are proud to publish this fine sequence, and pleased at the response it has drawn from us in making the book a reality.

Stitched into stiff cover, then wrapped with covers of St. Armand Ontario Flax mould-made paper printed in green. False cloth spine in green silk. Van Dijck with unidentified wood type for display, in green, sand, blue, and black on Mohawk Superfine.
6 1/4 by 10 1/4 inches [159 by 260mm]
28 pages. 125 copies.
C$120; approx. US$100 OUT OF PRINT